Memorial and Cemetery Benches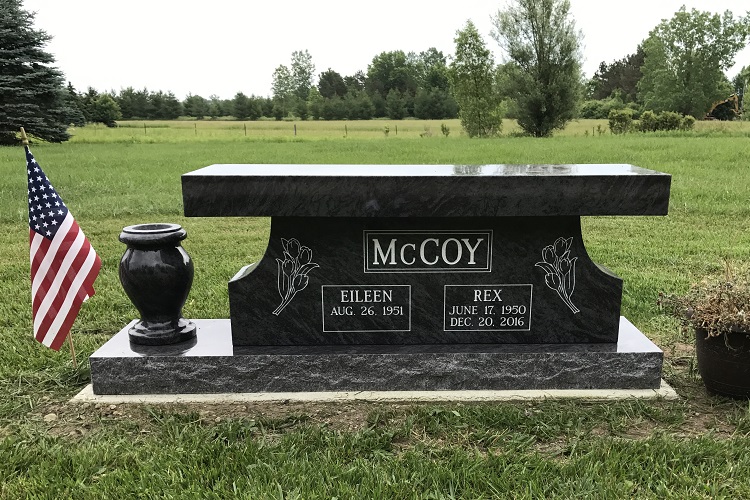 Memorial Benches
Granite memorial benches are a perfect way to memorialize a life. They are a beautiful addition to any grave site or cemetery.
If you are looking for a granite bench for a school, park, memorial, or other public space, we can design, build, and deliver it.
The memorial benches are available in 3ft and 4ft lengths. We carry a large assortment of granite colors as well. We can work with you to design the perfect engraving for the memorial bench that is sure to last for generations to come.
>> Learn more about Memorial Benches
Cremation Benches
A granite cremation bench is a creative way to house a loved ones remains while giving a place to rest and remember them. Cremation benches are available in straight leg and pedestal leg options. We carry a wide variety of granite colors for cremation benches. Your bench can also be personalized with an etched design which we can work to create with you. 
>> Learn more about Cremation Benches
Yes, we have done many different languages such as Hebrew, Arabic, Chinese, Albanian, Spanish and many others.  With our memorial software we are able to input any language and engrave it onto your memorial.
Not at all! We are able to offer our customers a lower price because we are a small family operated business. We are considered by some as being the highest quality memorial dealer in the area. With our computerized equipment and skilled craftsmen, we treat every memorial as a precise work of art not as a product.
We offer flexible payment options and will find a plan that is right for you.
We accept the following major credit cards: Visa, Mastercard, and Discover. We also accept personal checks, money orders as well as cash.
Yes, we do. All our our stones are backed by a lifetime guarantee against any natural defects.
We are a member of the Chamber of Commerce and we are the only member of the national memorial organization (Monument Builders of North America) in our area. We have been in business over 118 years and have continued to treat our customers with care during their difficult times.