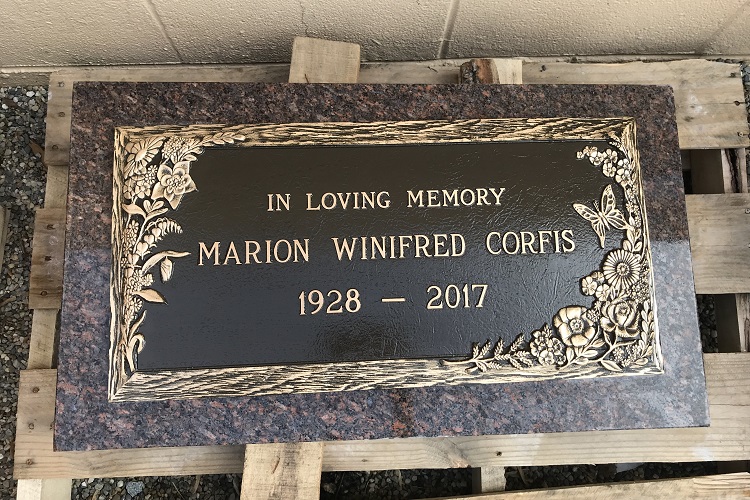 What are Flat Headstones?
Flat headstones or grave markers, as they are commonly called, are the economical, and simplest of the headstone options. Instead of being upright like a monument, they are flat and flush to the ground. Flat headstones are 4 inch thick, usually rectangle in shape, and are made from granite or bronze.
Even though they are usually smaller in size, we can still engrave granite flat markers. We can also create a unique and personalized bronze marker for you as well.
Flat headstones are available in single and companion models.
Flat Headstone Design Options
Common flat headstone sizes are:
24"x12"x4" - single
36"x12"x4" - companion
48"x12"x4" - companion large
Although flush grave markers are smaller in size than an upright memorial, we have a wide variety of designs, symbols, and images available for engraving or etching.
If you are interested in a larger dimension accepted by the cemetery, we can work with you to create a custom flat marker in any granite color available.
See our granite selection
See our pre-designed marker selection
Flat Headstones Pricing
At Lincoln Granite, we can work with you to come up with a budget and even a payment plan that fits your needs.
We offer flexible payment options and we are cheaper than local funeral homes in Michigan due to our factory pricing.
We are looking forward to answering your questions and can even give you a flat headstone cost estimate by answering a few questions here.
Installing a Flat Headstone at the Grave Site
Flat headstones or grave markers are the smallest of the headstones installed at cemeteries. We have delivered and installed thousands of grave markers since the early 1900's.
We will ensure the area is prepared before setting the marker and then ensure it is set correctly so it lasts. If you have any questions, don't hesitate to ask.