Are you looking for a more detailed photo or nature scene on a stone?  Then laser is what you are looking for.  Done only on black granite, it is a very popular way to show detail.  
We will provide you with samples of scenes or artwork that can be lasered into the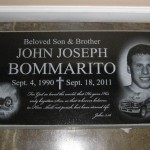 memorial stone, then a proof will be provided.  Recently, we had a customer see our office display stone depicting a log cabin, deer, woods and a fisherman.  When she saw it, she knew that was exactly what she wanted!  It was as if it was her own cabin up north that she and her husband cherished together.   
For examples of laser monuments and markers, visit the galleries on our website.  This example is one just completed for a young man who tragically lost his life from a drunk driver.